Christo and Jeanne-Claude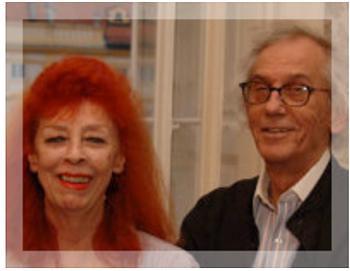 American artists of Bulgarian-French origin, who have caused quite a stir all over the world by creating works of art using fabric (Pont Neuf in Paris, Reichstag in Berlin, "The Gates" in New York City's Central Park).
Christo and Jeanne-Claude were born on the same day, on June 13, 1935. Having fled from his communist home country Bulgaria in 1956, Christo spent a semester at the Vienna Academy of Fine Arts and then moved on to Geneva and Paris. He scraped a living by commissions in portraiture which he signed with his family name "Javacheff". In 1958, he wrapped his first objects, which he signed by his first name "Christo" – but failed to be appreciated as an artist. However, the German businessman Dieter Rosenkranz bought some of his wrapped objects. Jeanne-Claude grew up in Paris, Switzerland and Tunisia in a well-to-do family and worked as a flight attendant with Air France for three months. In 1958 Christo and Jeanne-Claude met for the first time. He started teaching her in the history of art, and she became his French language teacher.
They implemented their first common project in 1961 when they wrapped stacks of barrels at the docks of the Cologne harbor. In 1964 the couple moved to New York with their son Cyril. From there they planned works of art all over the world, from wrapping a coast in Australia to "The Gates" in 2005, saffron colored sculptures which turned New York City's Central Park into a temporary work of art for 16 days. "Art is a matter of the moment, as in life the moment counts," say Christo and Jeanne-Claude.
Waldzell Speakers
The Waldzell meetings were dedicated to creating an interdisciplinary dialogue with inspiring speakers