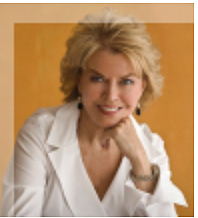 President and CEO of the Paley Center for Media, philanthropist
Pat Mitchell's career is characterized by her interests in media as a powerful force for change. As a broadcast journalist, an independent producer and as a television executive, Pat Mitchell's award-winning work took her from the front lines of conflict to the front lines of politics and policy both as a network correspondent for NBC and CBS and as a producer, she broke new ground for women and in the subjects and formats of her programming.
In 2000, Mitchell became the first woman to lead America's only public broadcasting service (PBS) and is recognized for strengthening the National Program Service for greater reach and impact during a time of commercial media consolidation and fragmentation of the audience. Assuming the top position at the Paley Center for Media in 2006, Pat Mitchell is strengthening the institution's role as a premier convener of top level media executives, creating a 'public square' for media where every aspect of media's impact on our lives, from news to entertainment, is explored.
In addition to many industry awards for her work, Pat Mitchell has been named to the Broadcast and Cable Hall of Fame, and is listed as one of Hollywood's Most Powerful Women. She also serves on several Boards, including the Mayo Clinic, the Sundance Institute, Human Rights Watch, and is a member of the Council on Foreign Relations. She is also a director on the corporate Boards of the Bank of America, Inc. and Sun Microsystems, Inc. A magna cum laude graduate of the University of Georgia, with a master's degree in English literature, Ms. Pat Mitchell has been awarded several honorary doctorate degrees and is a much sought after speaker on the issues of media and society, as well as leadership and gender equity. She and her husband, Scott Seydel, have six children and ten grandchildren and reside in New York and Atlanta, Georgia.
Waldzell Speakers
The Waldzell meetings were dedicated to creating an interdisciplinary dialogue with inspiring speakers